Introduction
DR. TALHA M. SIDDIQUI
BDS, MCPS
PRINCIPAL BAQAI DENTAL COLLEGE
Under the able guidance of Prof. Dr. Fareeduddin Baqai, Chancellor, BMU and Prof. Zahida Baqai, Vice Chancellor, BMU – the winning team of BDC has worked with traditional zeal and enthusiasm to turn this dream into reality. I am honored to be Baqai Dental College alumnus, and now a proud principal of this prestigious seat of learning. Baqai Dental College is now a nationally and internationally recognized seat of learning. Our graduates are not just performing with distinction in Community Oriented Medical Education (COME) sector; they are engaged in imparting quality education in the country and abroad as well. Therefore, our goal at BDC is not just confined to teaching dental diseases and their management; we aim at lighting up the fire of original thinking and devotion for service to ailing humanity within each student. I hope we were successful. We will find the answers in your achievements. Dentistry has changed tremendously in the last decade and we have reached to a new horizon where patients are well aware of the needs and demand of the treatment. We at Baqai Dental College believe in the slogan "treat the patient not the tooth". It means the old conventional concept of treating a single tooth has been obsolete and the entire management of the patient is required.
Since its inception in 1990, as a pioneer dental college in private sector and the 1st in the cosmopolitan city of Karachi, the students of Baqai Dental College have excelled in all colours of life. Our moto is not only develop skills, but to harness the personalities and give Pakistan, as a country, cultured professional human beings. It is an eternal promise that we shall guide, counsel and nurture you all as brightest souls of generation next. All the successes we honor today are made possible because of your own hard work and your perseverance. You have gracefully accomplished all this because of your parents and teachers who have extended best financial, emotional, spiritual and moral support to you throughout. Always keep them in your prayers. I wish you all with positive attitude, devotion and passion to work hard, you must keep Baqai Dental College shining.
I am confident that you will prepare for a bright and prosperous future and take on a world of infinite possibilities. May Allah guide you in your future endeavors and may you attain new heights.
ENVIRONMENTAL FACILITIES
Spacious out Patient Departments.
Individual attention to every student.
Allocation of separate tutor to each student.
Provision of career guidance and counselling.
Development of skills through skills lab, hands on experience on manikin and patients.
Friendly reading environment with well equipped library facilities.
A very well qualified, competent and well trained faculty with its national and international experience and qualifications.
DENTAL OPD & FATIMA HOSPITAL
We are the only private hospital which provides treatment without any charge whether out-patients or as in-patients management.

Oral and maxillofacial surgery department has been working in full capacity under the umbrella of Baqai Dental College Hospital.

The department treats and manages wide range of dental, oral and maxillofacial diseases under local and general anesthesia.

The department works on the basis of multidisciplinary approach with all the allied dental sciences as well as with the highly qualified multidisciplinary team of Fatima Hospital.
COMMUNITY BASED LEARNING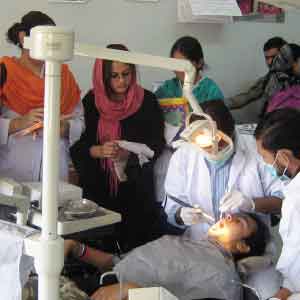 Community Oriented Medical Education.
Pakistan's first university which work on the philosophy and theme of community based patient's education and training.
Out reach centers work under Baqai Medical University:
Unit One - Gadap
Baqai Khushhal Nagar - Gharo
Baqai Medical Complex - Khuda Ki Basti
Baqai Medical Complex - Vender (Balochistan)
Baqai Medical Center - Gulshan-e-Maymar
Salimullah Fahmi Health Education Centre - Gulberg
City Dental Hospital - Nazimabad

and many more rural areas in the neighbourhood of the university campus.
We provide complete environment and facilities which not only help in the management of dental and oral diseases of the community but also provide first hand training units to treat these patient in the private sector.
FACULTY
Department of Oral & Maxillofacial Surgery
DR. KASHIF IKRAM
Pro Vice Chancellor

BDS, FDSRCS (Eng) , FFDRCS ( Ire. )



DR. IRFAN ALI
Associate Professor

BDS, FCPS



DR. QADEER AHMED
Registrar

BDS



DR. FATIMA NASEEM AHMED KHAN
Lecturer

BDS



DR. RIDA ILYAS
Registrar

BDS



DR. ARFAE Nazir
Registrar

BDS



Dr. MUHAMMAD MUZAMMIL
Sr. Lecturer

BDS,FCPS



Dr. Shehrish Khan Abbasi
Sr. Lecturer

BDS



Dr. Qurat U lAin
Lecturer

BDS



Dr. Haisam Abdul Hameed
Demonstrator

BDS


Department Of Operative Dentistry
DR. TALHA M. SIDDIQUI
Principal & Assoc. Professor. (Operative Dentisry)

BDS, MCPS



DR. KHALID SHAFIQ
Registrar

BDS



DR. ALI HUSSAIN
Registrar

BDS



DR. MOHSIN KHAN
Registrar

BDS



DR. ANEEQA SHAHAB
Registrar

BDS



DR. AMNA BIBI
Registrar

BDS



DR. ASAD JAVAID
Professor
Dean Faculty of Dentistry

BDS, MDS



DR. MARWAH BERKAT
Senior Registrar

BDS, MDSc



Dr. Kelash Kumar
Assistant Professor

BDS, FCPS



Dr. Abdul Haseeb Kath
Demonstrator

BDS


Department Of Prosthodontics
DR. ZAHID AKHTER KHAN
Assistant Professor

BDS, MCPS



DR. M.FARHAN KHAN
Associate Professor & HOD

BDS, FCPS



DR. RAFIQ MOOSA
Registrar

BDS, M. Phil



DR. MIRZA ADEEL ANWER
Registrar

BDS



DR. MUBASHIR ALI
Registrar

BDS



Dr. MADIHA FAROOQI
Registrar

BDS



Dr. Syed Aziz uddin
Sr. Registrar

BDS, MSc



Dr. M. Mubeen Arshad
Sr. Registrar

BDS, MSc



Dr. Saddam Hussain
Registrar

BDS


DEPARTMENT OF ORTHODONTICS
DR. IRFAN QAMARUDDIN
Associate Professor & HOD

BDS, FCPS



DR. BEENISH ELAHI RIZVI
Registrar

BDS



DR. JAVERIA TARIQ
Registrar

BDS



DR. DANIAL ASHRAF
Registrar

BDS



Dr. Aiyesha Wahaj
Demonstrator

BDS



Dr. Saadia Saad
Demonstrator

BDS


DEPARTMENT OF PERIODONTOLOGY & ORAL MEDICINE
DR. SYED AJAZ ALI ZADI
Assistant Professor

BDS, MMO, SRCS



DR. SHEHRYAR H. SIDDIQUI
Registrar

BDS



DR. MAAZ ASAD
Assistant Professor

BDS



DR. KHUMAR AHMED
Registrar

BDS



DR. PALWASHA AYUB
Registrar

BDS



Dr. Zia Ur Rehman Khan
Asst. Professor & (HOD)

BDS, MFDS, RCPS



Dr. Farjad Zafar
Lecturer

BDS, MSc Implantology



Dr. Mohsin Nazir
Lecturer

BDS



Dr. Eisha Ahmed
Lecturer

BDS



Dr. Zunaira Rabbani
Demonstrator

BDS



Dr. Arwa Habib
Demonstrator

BDS


DEPARTMENT OF ORAL DIAGNOSIS & RADIOLOGY
DR. SADIA NAQVI
Registrar

BDS



DR. SHAHEEN ABU BAKAR
Registrar

BDS



DR. NASEEM AHMED KHAN
Registrar

BDS, MCPS



DR. ABDUL BASIT PADIHAR
Assistant Professor

BDS, MCPS



DR. SAROSH KHAN
Registrar

BDS



Dr. Nouman Qamar
Assistant Professor

BDS, MPH


DEPARTMENT OF ORAL PATHOLOGY
DR. NAUMAN SHAIKH
AssociateProfessor & HOD

BDS, MSC



DR. FATIMA AHMED
Assistant Professor

B.D.S , MSc



Dr. Maria Ilyas
Sr. registrar

BDS, M.Phil



Dr. Zara Subhan
Registrar

BDS



Dr. Samara Rais
Demonstrator

BDS



Dr. Mahnoor Zahid
Demonstrator

BDS


DEPARTMENT OF ORAL BIOLOGY
PROF. DR. SHAKILA NAZIR
Professor

BDS, MCPS, PhD



DR. MUHAMMAD SABIH MERCHANT
Assistant Professor

BDS, MSc



Dr. Ambreen Khurshid Haider
Assistant Professor

BDS, MCPS



Dr. Nimra Amir
Lecturer

BDS



Dr. Khola Bint-e-Murad
Lecturer

BDS



Dr. Unaiza Pervaiz Hashmi
Lecturer

BDS


DEPARTMENT OF COMMUNITY & PREVENTIVE DENTISTRY
DR. ASGHAR ALI SHIGRI
Professor & HOD

BDS, MPH



DR. M. ALI LAGHARI
Assistant Professor

BDS, MSc



DR. SAMREEN MAZHAR
Assistant Professor

BDS, MPH



DR. MEHWISH BANO
Assistant Professor

BDS, MPH



DR. RAZA ABBAS
Lecturer

BDS



DR. ASIF RASOOL
Lecturer

BDS



DR. MOHSIN ABBAS
Lecturer

BDS



DR. FARHAN SUFI
Lecturer

BDS


DEPARTMENT OF DENTAL MATERIAL SCIENCES
DR. ADIL ZIA SIDDIQUI
Associate Professor & HOD

BDS, MSC



DR. ANUM MEHMOOD
Lecturer

BDS



Dr. Umm-e-Aiman
Lecturer

BDS



Dr. Ayesha Imtiaz
Lecturer

BDS


Medical Education
DR. AIN-UL-HAQ
HOD

BDS, MHPE-1



Dr. Syeda Madiha Mubarak
Registrar

BDS



Dr. Aliya Islam
Registrar

BDS



Dr. Anoshia Nazim
Demonstrator

BDS


Department of Research
Dr. Aisha Wali
Assistant Director

BDS, MPH



Dr. Rubab Jawed Farooqi
Research Associate

BDS, MSc


ADMINISTRATION
Dr. Malik M. Saqib
Administrator

BDS, MBA



Dr. Ruqayyah Quresh Hashmi
Deputy Administrator

BDS, MBA



Dr. Daniyal Hussian
Administrator Coordinator

BDS


Department of Anatomy
Dr. Sana Sobia
Lecturer

BDS



Dr. Rabia Rauf
Lecturer

BDS



Dr. Maria Azam Khattak
Lecturer

BDS



Dr. Anum Azim
Lecturer

BDS


Department of Physiology
Dr. Saleem Ullah Abroh
Assistant Professor

BDS, M. Phil



Miss. Nida Lathia
Assistant Professor

M. Phil



Miss. Ruqayya
Assistant Professor

M. Phil



Dr. Amna Afzal
Lecturer

BDS



Dr. Wajiha Israr
Lecturer

BDS



Dr. Fizza Tariq
Lecturer

BDS



Dr. Fatima Abid
Lecturer

BDS


Department of Biochemistry
Dr. Rida Kainat
Lecturer

BDS



Dr. Ambreen
Lecturer

BDS



Dr. Marium Muneer
Lecturer

BDS


Department of Pharmacology
Dr. Aitmaud-ud Dollah
Assistant Professor

MBBS, M. Phil



Dr. Lubna Jahanzaib
Assistant Professor





Dr. Humera Arif
Lecturer

BDS



Dr. Mahnoor Farzand
Lecturer

BDS



Dr. Ayesha Ayub
Lecturer

BDS


Department of Pathology
Ms. Hina Abbas Zaidi
Sr. Lecturer

Msc, M.Phil



Ms. Madiha Zaki
Lecturer

MSc



Dr. Pushmina Hira
Lecture

BDS



Dr. Raheeqa Usmani
Lecturer

BDS



Dr. Mehak Mussawer
Lecturer

BDS


Department of Medicine
Dr. Karim Kammeruddin
Professor

MBBS, FCPS (Medicine)



Dr. Mariam Tariq
Assistant Professor

MBBS, FCPS (Medicine)



Dr. Bushra Rabbani
Assistant Professor

MBBS, FCPS (Medicine)


Department of Surgery
Dr. Sadaf Iqbal
Assistant Professor

MBBS, MS (G. Surgery)



Dr. Unaiza Pervaiz Hashmi
Registrar

BDS