Baqai Institute of Physical Therapy Rehabilitation Medicine
Introduction
The department of Physiotherapy was established in 2004. The department and its management are always committed to serve the rural population specially.
Physiotherapist in the department work with the multidisciplinary team of health care providers to provide holistic care that is aligned with patient's treatment goals.
The department strives to provide inpatient and outpatients services that is based on the high standards of care and quality. The department offers its services to the hospital's ICUs, HDUs, and multidisciplinary wards.
The inpatient and outpatient physiotherapy services offer assessment function, mobilization and ability to function independently and to restore quality of life.
Uses of Physical Therapy
Physical Therapy is helpful in treating many diseases and disabilities. It is often used in treating heart and lung diseases and various types of paralysis and muscle weaknesses such as strokes etc. It is also important in amputations, fractures and other injuries and Orthopaedic conditions. With the aid of physical therapy, some one with Paraplegia can be trained to walk again and lead a constructive life.
History Of Physical Therapy
Physical Therapy is a treatment that is used when health problems make it hard to move around when they are threatened by injury, disease, aging and environment factors. It helps to move better and relieve pain. It also helps to improve or restore the maximal movement, physical function and fitness level throughout life.
The goals of physical therapy are to make daily tasks and activities easier. For example, it may help with walking, going upstairs, or getting in and out of bed.
Physical Therapy is concerned with identifying and maximizing quality of life and movement potential with in the spheres of promotion, prevention, treatment and rehabilitation. This embraces physical, psychological, emotional and social well-being. It enhances the interaction between Physical Therapists, Patients/Clients, other health professionals, families, caregivers and communities at large.
Our Clinical Activities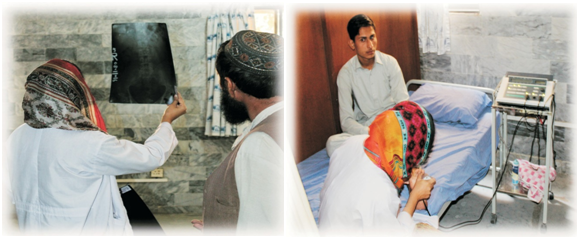 Physical Therapy is the largest allied profession. Physiotherapist works with patients and their families/careers in a variety of disabilities and injuries. They use physical means to promote health, optimal rehabilitation and where possible recovery. Physiotherapists practice as autonomous professionals when acting as the first point of contact for clients/patients, or as a part of health or social care team.

The department of physical therapy provides services in the following specialties:

Intensive Care Physical Therapy – Physical Therapy services provided to critically ill patients, comprehensive care and constant monitoring in ICUs and HDUs with the collaboration of other health care professionals.
Pain Management – Pain is managed with the help of different pain reducing modalities like TENS, Heat therapy and Laser Therapy.
Gynae Rehabilitation – Pre and Post natal exercise is taught to the patients and provides information regarding all gynecological rehabilitation and prevention in the development of chronic pathologies.
Neuro & Spinal Rehabilitation – It includes treatment of all pre and post surgical conditions, all traumatic and non traumatic brain and spinal cord injuries.
Rehabilitation for Diabetes Mellitus – exercises related to many diabetic problems such as poly neuropathies and muscular dystrophies.
Pediatrics Rehabilitation – It provides inpatient rehabilitation and specialized program to treat children with complex medical conditions/deformities.
Plastic & Reconstruction Rehabilitation – Plastic & Reconstruction Rehabilitation after surgeries improves burn survivor's physical activates, function and appearance.
Musculoskeletal Rehabilitation – Rehabilitation for degenerative conditions, rheumatologic disorders and soft tissue injuries etc.
Sports Rehabilitation – Injuries associated with sports, and athletic training through modalities and gym activities.
Cold Therapy
In the shape of Ice Packs, reduces pain, swelling, inflammation and spasticity.
Hydrotherapy
Includes Whirlpool and therapeutic pools.
TENS(Transcutaneous Electrical Nerve Stimulation)
Relieves intractable pain.
Massage
One of the oldest methods of treatment, helpful in a variety of ways.
Therapeutic Exercises
Exercise helps to maintain and improve body function and posture. It increases muscle tone, strength and endurance. Some exercises can be done by the patient alone. For others, the patient might need the help of the therapist. Mechanical Devices such as parallel bars, stationary bicycles, pulleys, weights and dumbbells are used. Self Help devices such as splints, braces, crutches and wheel chairs help disabled people perform daily activities. Physical therapists train people to use these devices and to develop confidence in accomplishing daily tasks.
Role Of Phyical Therapy in Today's World
In the world of today, there is an unprecedented rise in the number of accidents. Road accidents, terrorist activities, industrial accidents, agricultural accidents, crime and of course, everyday accidents at home, all contribute to the spiraling number of musculo-skeletal trauma in recent times. The situation is made worse by multiple injuries, complicated fractures and many types of combination injuries and problems. Naturally, there has been a great increase in the number of Orthopedic Surgeons and new developments in trauma management. Joint replacements, Arthroscopic surgery, methods of bone fixation, both internal and external are routinely practiced. All these treatment methods aim at restoring the lost anatomy, but not the pre-injury functional status. A good fracture fixation may facilitate faster recovery but not complete recovery. This is where physical therapy and rehabilitation enter the picture. Improved fracture fixation and good rehabilitation programs are the twin pillars of successful treatment in trauma. The same applies to Backache, Frozen Shoulder, and Osteoarthritis etc. No one can deny that Orthopedics and Rehabilitation are inseparable. In fact, without good physical therapy and rehabilitation, the Orthopedic Surgeons' job is only half done.
Academic Programs
Careers In Physical Therapy:
DPT
Doctor of Physical Therapy & Rehabilitation Medicine program of 5 years duration, now on offer at Baqai Medical University. Physical Therapy Program (DPT) includes courses in Anatomy, Physiology, Orthopedics & Surgery, Clinical Medicine, Psychology, Sociology, Kinesiology, Medical Physics, Electrotherapy and Physical Therapy Treatment. Post Graduate Diploma in Sports Physical Therapy & Rehabilitation Medicine has been approved by the Academic Council.
M.S.P.T
Master's two years program is in the planning stage.
Career Opportunities:
Physical Therapists work in such places as Clinics, Hospitals, Schools for the Handicapped, Private Offices, Academic Institution, Home Health Service, Nursing Homes and Old People's Homes.
Course Of Study
First Year:
Anatomy – I
Physiology – I
Kinesiology – I
Pak-Studies / Islamiat / Moral Philosophy.
English.
Computer Literacy/Professional Communications.
Medical Physics
Second Year:
Anatomy – II
Physiology – II
Kinesiology – II / Biomechanics
Pharmacology/Biochemistry
Electrotherapy – I
Physical Therapy Treatment – I
Sociology/Life Span & Human Growth
Biostatistics>
Third Year:
Physical Therapy Treatment – II & Fundamentals of Rehabilitation
Pathology
Community Medicine
Medicine – I
Electrotherapy – II
Surgery – I & Orthopaedics – I
Imaging for Physical Therapists
Fourth Year:
Physical Therapy Treatment – III
Research Methodology – I
Medicine – II
Surgery – II & Orthopaedics – II
Occupational Health
Ethics & Professional Issues
Final Year:
Exercise Physiology/Sports Medicine
Rehabilitation
Orthopaedic Rehabilitation/Amputations/Prosthetics/Orthotics
Research Methodology (Seminars)
Health Services & Hospital Management Role of Physical Therapy
Clinical Affiliation & Professional Practice
Research Reports & Desertation
Eligibility
The course of DPT shall comprise of 5 academic year (full time) and one-year clinical internship, which is subject to availability of the clinical placements and the academic merits of the students. The entry requirement for this course is intermediate pre-medical or equivalent with 60% marks.
Services
Free of cost Physical Therapy services at OPD BIPTRM.
Facilities
Facilities as provided by the Baqai Medical Universit.
Faculty List Of Department of Physical Therapy - DPT CLICK HERE
Important Events
| | | |
| --- | --- | --- |
| Day One Function | | January |
| World Physical Therapy Day | | 8th September |
| Eid-e-Milad-un-Nabi | | 12th Rabi-ul-Awwal |
| Independence Day | | 14th August |
| Annual Function | | Last week of October |
| Mela / Innovative Competition | | 2nd week of November |
| Convocation / University Symposium | | Mid December |
| Inter Class Debate Competition | | Last week of March |
| Bait Baazi Competition | | 2nd week of April |
| Talent Show | | Last week of July |
FACULTY
Baqai Institute of Physical Therapy Rehabilitation Medicine
Dr. Mahnoor Bugti
Deputy Director

PhD Scholar, CHPE CKPT, M-Phil, DPT



Dr. Muhammad Afaq
Assistant Professor

MSAPT, DPTd, BSPT



Dr. Nabi Bukhsh
Sr. Lecturer

PhD Scholar, MSAPT, DPT



Dr. Yusra Sohail
Lecturer

DPT



Dr. Aayan Huda
Lecturer

DPT



Dr. Ayesha Latif
Lecturer

DPT, CHPE



Dr. Ariba Sohail Ahmed
Lecturer

DPT



Dr. Sara Tanveer Hussain
Lecturer

DPT


ADJUNCT FACULTY
Dr. Ruqaya
Associate Professor - Physiology





Prof. Dr. Syed Inayat
Head Department of Anatomy





Dr. Shahid
Associate Professor - Anatomy





Dr. Tayyaba
Lecturer - Anatomy





Prof. Mr. Olid
Professor - English





Ms. Uzma
Assistant Professor - Pakistan Studies





Mr. Rehan
Assistant Professor - Introduction to Computer





Dr. Arshad Jamal
Assistant Professor - Biostatistics





Dr. M. Yasir. Rishi
Lecturer - Pathology & Microbiology





Dr. Sehrish Mehmood
Lecturer - Pharmacology





Prof. Dr. Jameel Ahmed
Chairman Department of Medicine





Dr. Saima
Assistant Professor - Medicine





Dr. Dania
Senior Lecturer - Medicine





Prof. Dr. Aslam
Professor - Surgery





Dr. Aneel Kumar
Head of Radiology Department





Dr. Farheen
Registrar in Radiology Department