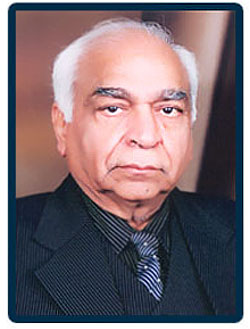 Prof. Dr. Fareed Uddin Baqai (Late)
FOUNDER CHANCELLOR
"To evolve as a nucleus for higher learning with a resolution to be socially accountable, focused on producing accomplished health care professionals for services in all spheres of life at the national and global level"
GOALS OF THE UNIVERSITY:
Inculcate a progressive humanistic attitude for learning and research.
Provide health care facilities at par with international standards to the community in a cost-effective manner
Elevate health status of the community and increase public awareness for preventive actions considering the socioeconomic conditions.
Focus on innovative research based on erudition.
Cultivate original knowledge and capabilities of its graduates through national and global collaborations.
CORE VALUES:
Considering the above-mentioned motto of the university the following core values were discussed and finalized.
Lifelong learning/knowledge
Professionalism
Ingenuity
Innovation
Ethical practice
Collegiality
Perseverance
Evidence based practice
Effective communication
Prof. Dr. Zahida Baqai
CHANCELLOR & ACTING VICE CHANCELLOR